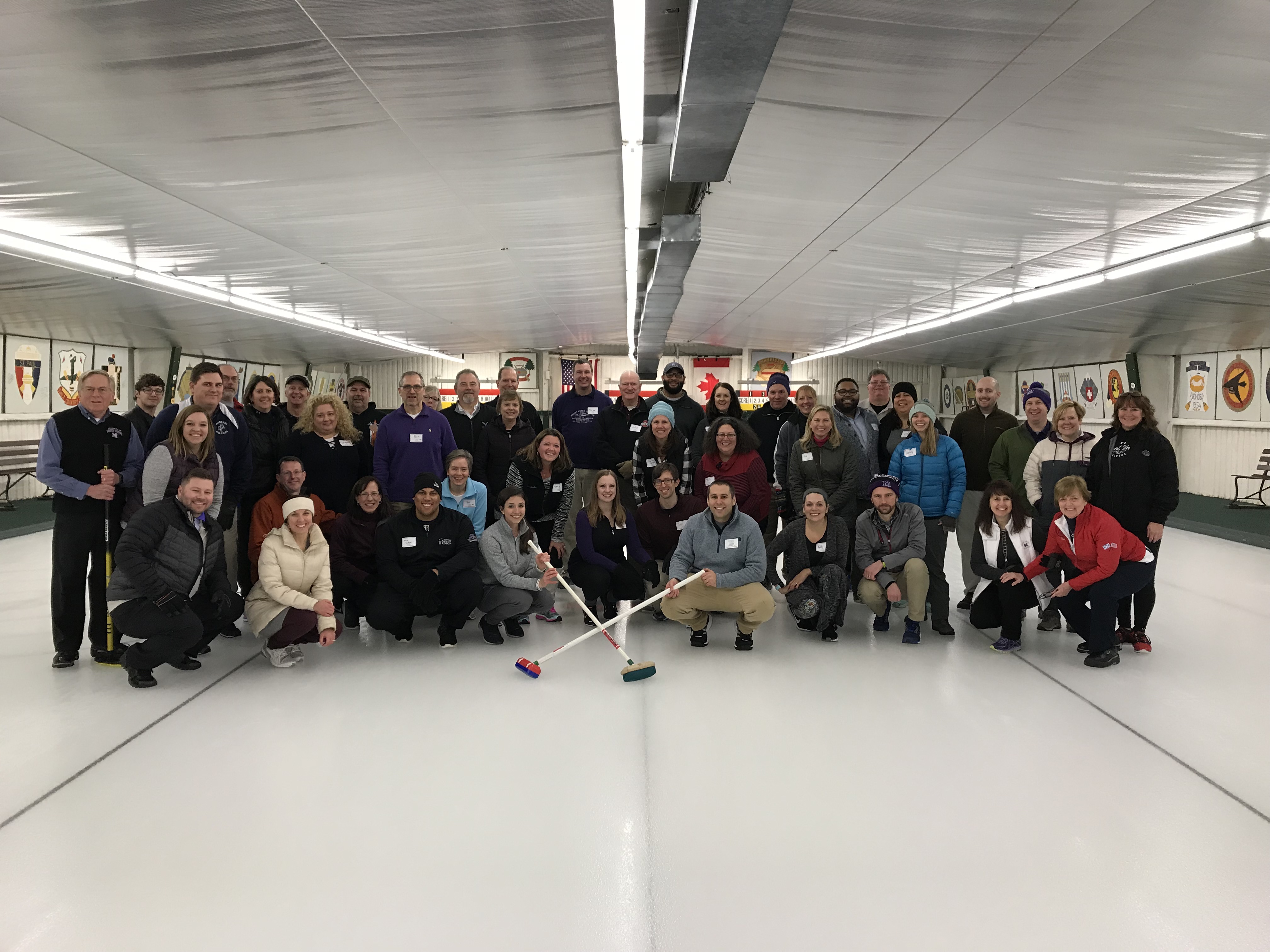 Alumni
Curling 101
Please note: this event is at capacity. If you wold like to be added to a waiting list, please contact the Office of Alumni Engagement at (330) 823-2030.
Ever wonder what curling is all about or ready for part II? Alumni, parents, and friends of Mount Union are invited to an evening on the ice to "Learn How to Curl" (adults only) with our very own Richard '72 and Cheryl (Brown '72) Drake! Cheryl was part of the United States Women's National Curling Association as they competed in the Scot Tour, a 24-day, 20-game event where United States female curlers at the club level compete against Scotland's female curlers - a competition that only occurs once every ten years since its inception in the 1950's.
You will learn the basic curling techniques from members of the Mayfield Curling Club. All participants are required to sign a release form upon arrival to event.
RSVP is limited to 50 guests and is required. Please RSVP to the Office of Alumni Engagement at (330) 823-2030 or alumni@mountunion.edu.
Read some hepful safety tips before the event!
Attire
Please bring a pair of clean tennis, running or athletic shoes with rubber soles, not EVA or foam-type soles. Shoes to be worn on the ice are to be carried in, and not the shoes you wear to the Curling Lodge. Dirt, salt, and other debris tracked in from outside will damage the ice and playing surface.
The temperature in the playing area will be 40°F. Curling is an active sport and layering is encouraged so participants are able to adjust to being cold or warm. On-ice curling attire should be comfortable and practical for the sport, but needs to adhere to basic dress guidelines. Casual slacks, such as Dockers or khakis, or track-style pants with collared or banded shirts, turtlenecks, fleece, vests and jackets are preferred over jeans, sweatpants, tee shirts or more casual attire. Jeans and denim are allowed at the curling lodge, but not on the ice or generally the rest of Mayfield Sand Ridge Club property. Guests will receive basic information and instruction on how to curl and have the opportunity to get on the ice to curl.
Saftey Tips
It is not difficult to get around on the ice, however even a simple fall can result in serious injury. Ice is slippery and hard so be very careful while standing or moving around. Even experienced curlers pay attention to these cautions:
1. Always be very careful when stepping ON or OFF the ice. Curlers are more likely to slip or fall when stepping on or off the ice. Always watch where you walk!
2. Step ON the ice with your "gripper" shoe (non-slider) first. Be careful and never use your slider foot to step on the ice. Step OFF the ice with your "slider" shoe first. Be careful as the green carpet can also be slippery.
3. Never stop a rock with your hand (your fingers can be crushed, especially if the rock hits another rock) or a fast moving rock with your feet (it could knock you off your feet). Instead, use a broom or brush to stop a moving rock.
4. Keep your hands out of pockets and free for balance or to break a fall. If possible carry a broom or brush, which can also be used to regain balance or break a fall.
5. Never go onto the ice when your balance is impaired from sickness, alcohol, etc.
6. While sweeping, if you can't keep up with a fast shot then slow down and STOP; running after a stone isn't worth risking a fall.
7. Be aware and stay alert. This includes watching for stones from adjacent sheets and being ready to play. Also, say on your toes because getting back on your heels can often lead to slips and falls.
8. If you fall, TURTLE! Tuck your chin to your chest and round your back to prevent your head from hitting the ice.
9. When in doubt, stop and ask an instructor for help!
Add to Calendar
Saturday, February 9, 2019
Event Type
Contact
Office of Alumni Engagement
alumni@mountunion.edu
Department
Office of Alumni Engagement