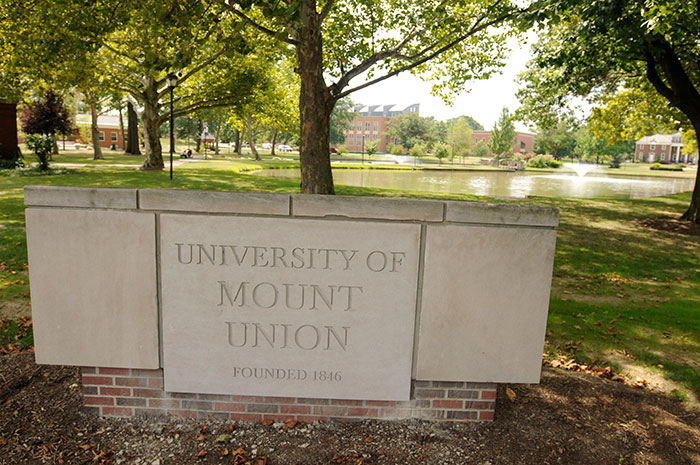 Student Life | Diversity Awards
MLK Keynote and Award Ceremony
The MLK awards will be presented at the University of Mount Union's MLK Jr. Awards Ceremony and Keynote Address. The keynote address will be presented by Canton city police officer and community activist, Lamar Sharpe on Thursday, January 21, 2021, at 7 p.m. Call for nominations will go out in early January. The keynote address will be limited to the first 50 registrants in the Dewald Chapel, visit MLK Keynote and Awards to register. The Awards will also be available to stream online using the button below.
Awards
Each year, the University presents the Dr. Martin Luther King, Jr. (MLK) Award to members of both the Mount Union community (student, faculty, or staff) and the Alliance community who best embody the values and principles exemplified by Dr. King. Selection for the MLK Award will be based on the nominee's exemplification of the following: Promoting racial harmony; Advocating for social justice; Collaborating with groups, offices, churches or organizations; Demonstrating a sustained commitment to diversity; Fostering inclusiveness and an appreciation of differences.

Alpha Phi Alpha Book Prize
The Alpha Phi Alpha Book Prize was established in 2015 by members of the Iota Phi chapter of Alpha Phi Alpha Fraternity, Inc. This scholarship was created to honor the legacy of Martin Luther King Jr., who was a notable member of Alpha Phi Alpha Fraternity, Inc., and to reward a current student who has carried on his legacy at Mount Union. The selected student receives a $500 scholarship to cover the cost of textbooks in the following semesters. The scholarship is awarded to one student yearly during the Martin Luther King Jr. Award Ceremony.
Past recipients include:
2015-

Kimesha Callie

Flonnoy

2016-

Caitlin Shimp

2017- Reilly August

ine

2018- Brianna Boehlke

2019- Ande'Marie Green

2020- Francesca Bowman
Add to Calendar
Thursday, January 21, 2021
Event Type
Contact
Ron Holden
holdenrf@mountunion.edu
Department
Office of Diversity and Inclusion