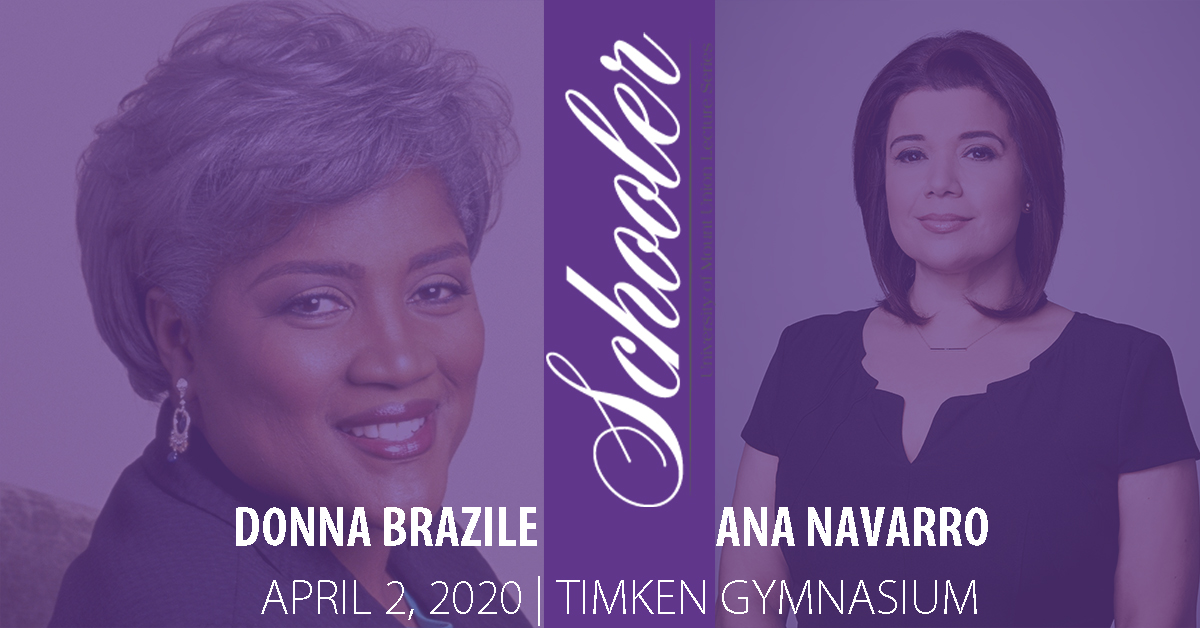 Student Life
POSTPONED/Schooler Lecture -
The Schooler Lecture, slated to feature renowned political strategists Donna Brazile and Ana Navarro on Thursday, April 2, has been postponed as a result of the COVID-19 pandemic. The University plans to work with both speakers to reschedule the lecture for a later date. Complimentary tickets will still be available to those interested but will not be able to be requested until after a new date is confirmed.
In celebration of the 100th anniversary of the Women's Suffrage Movement, Mount Union is hosting renowned political strategists Donna Brazile and Ana Navarro as its 2020 Schooler Lecturers on April 2, 2020.
Brazile is the former interim chair of the Democratic National Committee (DNC), a current Fox News contributor, and the author of the New York Times bestseller "Hacks: The Inside Story of the Break-Ins and Breakdowns That Put Donald Trump in the White House" and the 2004 best-selling memoir "Cooking with Grease: Stirring the Pots in American Politics." She is a co-author of the book entitled "For Colored Girls Who Have Considered Politics," which received an NAACP Image Award. In 2013, Brazile was appointed by President Barack Obama to serve on the J. William Fulbright Foreign Scholarship Board. She is also the proud recipient of more than 10 honorary doctorate degrees from major colleges and universities, including her alma mater Louisiana State University. In October 2017, Brazile was the recipient of the W.E.B. Du Bois Medal, Harvard's highest honor in African American studies.
Navarro is a well-known Republican strategist, political analyst (CNN, CNN en Español, Telemundo), and co-host of ABC's "The View". The Miami New Times named her a "Republican power-consultant," and the Tampa Bay Times called her "a sought-after voice in Republican politics and an adviser for any presidential hopeful". Navarro most recently served as the national Hispanic co-chair for Governor Jon Huntsman's 2012 campaign and the national co-chair of John McCain's Hispanic Advisory Council in 2008, where she was also the national surrogate for the McCain 2008 campaign.
Add to Calendar
Thursday, April 2, 2020
Event Type
Contact
Audra Youngen
youngeau@mountunion.edu
Department
Alumni Office