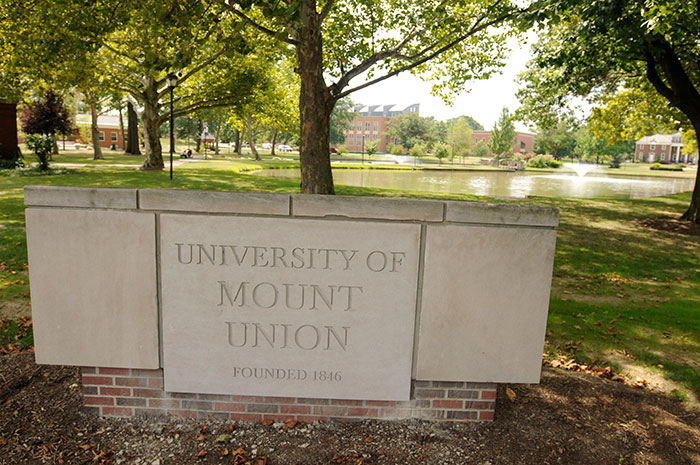 Visual and Performing Arts | Student Life
Alliance Symphony Orchestra Concert
The Alliance Symphony Orchestra will present their spring concert at 3 p.m on April 24 in the Brush Performance Hall of the Giese Center for the Performing Arts.
Mount Union held its Solo con tutti competition for current students to audition to perform as featured soloists in the concert. Two students were selected from those auditions. First place winner, soprano Peyton Zamarelli, a double major in music and public relations from Beloit, Ohio will sing a recitative and aria from Mozart's Don Giovanni: "Batti, batti, o bel Masetto." Pianist Noah Stuart, runner up in the competition, a music major from Dennison, Ohio will perform the Andante sostenuto movement from Saint-Saëns' Piano Concerto No. 2 in G Minor.
The program will also include Mozart's Overture from La Clemenza di Tito, Bizet's L'Arlesienne Suite 1, and Berlioz's Hungarian March from the Damnation of Faust. Mount Union music faculty member Eric Benjamin will conduct the orchestra.
Tickets are $10 for adults, $8 for seniors/veterans and free for all students. Tickets can be ordered online at mountunion.edu/boxoffice or through the Mount Union Box Office, which can be reached at (330) 821-2565. Box Office hours are from 2:30-4:30 p.m. Monday-Friday when classes are in session. The box office will also open for ticket sales one hour prior to the performance.
Add to Calendar
Add to iCalendar
Sunday, April 24, 2022
Event Type
Contact
(none)
Department
ALLIANCE SYMPHONY ORCHESTRA