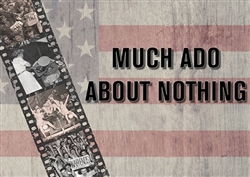 Visual and Performing Arts
Shakespeare At the Castle: Much Ado About Nothing
The tenth season of Shakespeare at the Castle (SATC) returns this year with "Much Ado About Nothing" at Alliance's historic Glamorgan Castle. This year, the show will run two weekends with eight total performances, July 27-30 and August 3-6.
"Much Ado About Nothing," one of Shakespeare's funniest comedies, revolves around Beatrice and Benedick - a couple who surprisingly fall in love with one other, though neither one wants to admit it.
All performances begin at 7 p.m. The Glamorgan Castle grounds will open early for those who wish to picnic before the show. There will also be a vendor on hand selling desserts and drinks prior to the show and during the intermission.
General admission pre-sale tickets are $20 for adults and $13 for children. Bleacher pre-sale tickets are $12. Children under 6 are free.
Day-of general admission tickets will be $25 for adults and $20 for students. Day-of bleacher seats will be $15.
Tickets can be purchased online at mountunion.edu/boxoffice or by calling the Mount Union Box Office at (330) 821-2565.
Add to Calendar
Add to iCalendar
Thursday, July 27, 2023
Event Type
Contact
Box Office
boxoffice@mountunion.edu
Department