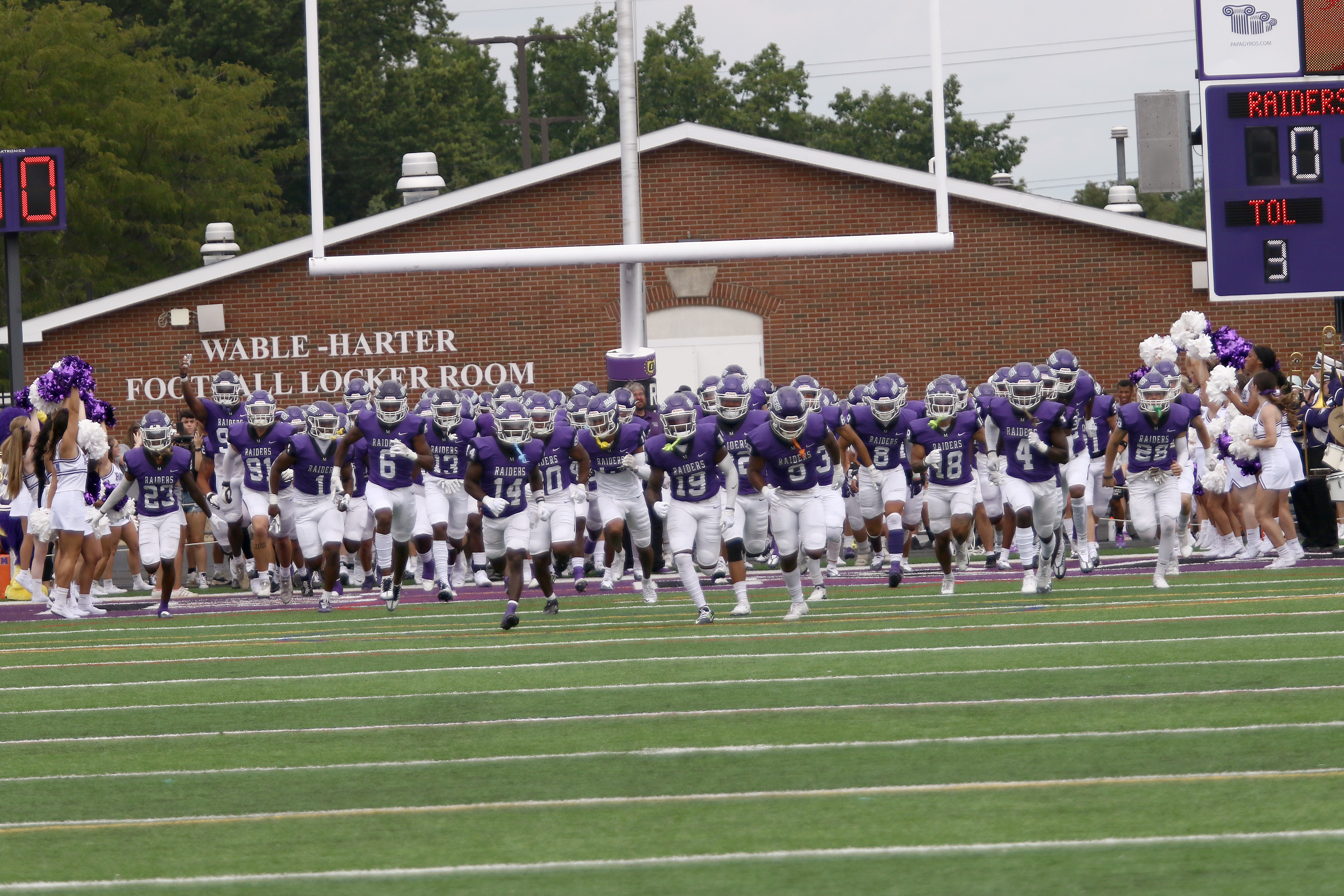 Alumni | Athletics
Stagg Bowl 2022
The Purple Raiders are headed to the Stagg Bowl!
The University of Mount Union will travel to the Navy Marine Corps Stadium in Annapolis, MD to play North Central College in the championship game of the 2022 NCAA Division III Football Playoffs.


OVERNIGHT FAN BUS INFORMATION
The overnight fan bus is currently full.
TICKET INFORMATION
Tickets are $15 for adults general admission and $10 for seniors, students, and youth general admission. Children under the age of 2 are free. Gates open at 5:30 p.m.



2022 STAGG BOWL DETAILS
The 2022 Stagg will be hosted by Stevenson University. Click the button below to learn more about parking, the bag policy, tailgating, and Annapolis area hotels.



The physical address for the Navy Marine Corps Stadium is: 550 Taylor Ave., Annapolis, MD 21401.
Downloadable PDF Directions


Pre- and Post-Game Celebrations
Alumni and friends who are traveling to Annapolis, Maryland are invited to join us at the pre-game tailgate from 3:30-7 p.m. near the water tower at Navy-Marine Corps Stadium! Look for the purple and black tents! Free food and goodies available (while supplies last!)
Immediately following the game, alumni and friends are invited to stop by the N. Star banquet room located inside of the Navy-Marine Corps Stadium near Stadium Gates C/D for a celebration/recognition of a fantastic Purple Raider football season. Appetizers available while supplies last! Cash bar available.

GAME COVERAGE
Mount Union games are broadcast live online (with video) and on the radio on WRMU-FM 91.1 Alliance in addition to being broadcast on WDPN-AM 1310 Alliance. Check the athletics website for links live audio, statistics, and details.



WATCH PARTIES
If you are interested in hosting a watch party, email the Office of Alumni Engagement and include the name, address, start time, and additional information. Also, let us know if you wish to be listed as the host of the watch party.
As watch parties are scheduled, they will be added below. Please check back frequently during the week.
COLORADO FLORIDA GEORGIA KANSAS MAINE MASSACHUSETTS
NEVADA NEW YORK OHIO PENNSYLVANIA RHODE ISLAND
COLORADO
Centennial, CO
Alpha Charlies Tap and Tavern (AlphaCharlies) | 6631 S Peoria St, Centennial, CO 80111 (East of I25 on the NW corner of Arapahoe Rd and Peoria St) | Venue: (720) 627-5354

Start: 4:30 p.m. MST
We will have a Purple Raider Cocktail!
Hosted by: April Mason '77 and Don Sheehan '78
Please RSVP or direct questions to Don at dssheehan@gmail or (303) 669-0405
FLORIDA
Buffalo Wild Wings | 318 SR-312 W, St Augustine, Fl, 32086
Hosted by Steve Melnick '75
GEORGIA
Atlanta, GA
Taco Mac Perimeter (Near Perimeter Mall) | 1211 Ashford Crossing, Atlanta, GA 30346 | Venue: (678) 336-1381
Start time: approximately 6:45 p.m.
Questions: Please text (678) 913-5593
Hosted by: John Huston '84
KANSAS
Wichita, KS
ParaDocs Brewery | 5415 E. Pembrook St., Wichita, KS 67220
Doors open at 5 p.m.
Specials: A free beer after every Raider touchdown!
RSVP by Dec 15: (316)573-3966 or paradocsbrewery@gmail.com
Hosted by: Michael '91 and Nicole '92 Rogers
MAINE
South Portland, Maine
Buffalo Wild Wings | 85 Western Avenue, South Portland, ME 04106 | Venue: (207) 541-9464
*No on-site host, but game will be televised
MASSACHUSETTS
Braintree, MA
Buffalo Wild Wings | 250 Granite St. Ste. 1025B South Shore Plaza, Braintree, MA 02184-2804 | Venue: (781) 843- 0753
*No on-site host, but game will be televised
NEVADA
Las Vegas, NV
Aria Resort and Casino (In the BetMGM Sportsbook behind Moneyline Pizza and Bar on the Casino Level)| 3730 S Las Vegas Blvd, Las Vegas, NV 89158
Start time: 4 p.m. (Pacific Time)
For all guests: Your first hour in self-parking is free.
For Nevada residents: receive first three hours of Self-Park at no charge, except during special events, with valid NV driver license and are subject to Self-Park rates thereafter. Upon exiting, insert your ticket and scan your NV driver license under the barcode reader to receive complimentary hours. You will not receive the complimentary three hours of parking if you insert your parking ticket at the Self-Parking Pay on Foot kiosks.
Hosted by: Danae (Millard '91) Barrett
NEW YORK
Anchor Bar Niagara Falls | 114 Buffalo Avenue, Niagara Falls, NY 14303
Start time: 6 p.m.
Hosted by: Michael Marsch '86
Specials:
Game Time Combo | 49.99
Large Cheese and Peperoni Pizza, 10 wings and a pitcher of beer
Wings and Beer
Receive one domestic beer for $1 with the purchase of 20 wings
Half Price Queso Dip
Half Price Anchor Bar Dip
$15 Buckets domestic Beer
$18 Bucket Specialty Beer
$5 Pint Domestic Beer
Swag to give away!
OHIO
Alliance, OH
Chives Bar and Grille | 2355 S. Union Ave., Alliance, OH 44601
Start time: 7 p.m.
Buffalo Wild Wings | 310 West State St., Alliance, OH 44601 | Venue: (330) 821- 9464
Start time: 6:30 p.m.
Hosted by the Mount Union Office of Alumni Engagement
Aeonian Brewing Co. | 120 W Chesnut St., Alliance, OH 4401
Start time: 7 p.m. | Game-day specials
Avon, OH
The Wine Room | 35840 Chester Rd., Avon, OH 44011
Time: 6:30 p.m. to End of the Game
We offer a different wine tasting each weekend and have twelve Craft Beer Drafts and a Full Liquor Bar.
Website: https://avonswineroom.com/
Hosted by: Ryan Robbins '00
Cincinnati, OH
The Wood Bar | 1763 Sherman Ave., Norwood, OH 45212
Start time: 7 p.m.
Specials: Happy Hour prices all day Friday!
Hosted by: Terry Feucht '83
Columbus, OH
Woody's Wing House | 161 East Campus View Boulevard, Columbus, Ohio 43235 | Venue: (614) 433-9464
Start time: 5 p.m.
Hosted by: Jim Durham '82
Questions? Call (614) 562-5236
Dayton, OH
TJ Chumps | 559 S Main St., Englewood, OH 45322 | Venue: (937) 836-4300
Start time: 6 p.m.
Please RSVP (If possible) by Thursday December 15. We have tables set for 24 and can add seats if necessary.
Call/Text: (937) 751-3286
Hosted by: Jim '90 and Leslie (Sheidler '92) Smith
Dover, OH
Broadway Brewhouse | 127 S Broadway Street, New Philadelphia, Ohio 44663
Start time: 6:30pm
Hosted by Natalie (Giantsos '04) and Doug '02 Peterman
Please RSVP by emailing natalie.peterman@gmail.com
Marietta, OH
Marietta Brewing Company | 167 Front Street, Marietta, OH 45750
Start: 6:30 p.m. gather/ 7 p.m. game
Hosted by: Ellen Campbell '03 | RSVP to ellenanncampbell@gmail.com
Westlake, OH
Hail Mary's | 27828 Center Ridge Road, Westlake, Ohio 44145 | Venue: (440) 345-8972
Start Time: 7 p.m.
Host Provided Specials: Free Appetizers (while they last) and Mount Union Fan Giveaways
Hosted by: Matthew ('88) and Catherine Smith | Questions? Call (216) 287-0232
PENNSYLVANIA
Pittsburgh, PA
Buffalo Wild Wings | 480 Home Drive, Pittsburgh, PA 15275 (Robinson Twp- near Home Depot)
Start time: 7 p.m.
Hosted by Brittney (Matejka '99) Golden - (412) 427-4380
Warrington, PA
Buffalo Wild Wings | 210 Easton Rd., Warrington, PA 18976 | Venue: (215) 343-2375
Reservations: First come, first served. Game will be televised.
Start time: 7 p.m.
Host: Cindy (Boerner '70) Mazda and Alyson (Muenster '98) Zimmer
Wear something Mount Union or purple!
RHODE ISLAND
Warwick, Rhode Island
Buffalo Wild Wings | 400 Bald Hill Rd. Ste. E107 Warwick Mall, Warwick, RI 02886-1684 | Venue: (401) 739-1392
*No on-site host, but game will be televised
Add to Calendar
Add to iCalendar
Friday, December 16, 2022
Event Type
Contact
Tara Pete
alumni@mountunion.edu
Department
Office of Alumni Engagement