The University of Mount Union will host the eleventh annual Not Another Statistic Diversity Conference on October 27, 2018. The theme of the conference this year, Gone in a SNAP?: Promote lasting change in the age of social media, is something we hope will inspire all who attend to learn and grow together at the conference and then go back to their respective communities to live out the change they would like to see while encouraging others to do the same.


Keynote Information
Keynote Speaker: Jamele Adams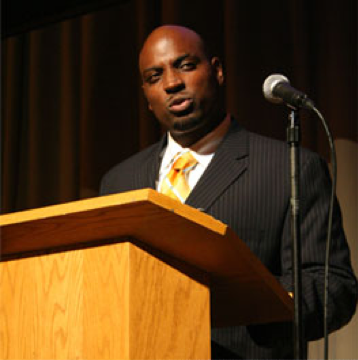 Jamele Adams came to Brandeis University to join the student affairs group as an Assistant Dean in July of 2005. Though Jamele came to Brandeis through a search for an assistant dean with special responsibilities supporting programs that celebrate and enhance campus pluralism, he came with solid generalist dean level experience and now serves as Dean of Students.
Dean Adams came to his position after several years as the Director of the Jeter's Leaders, a program in the Derek Jeter Turn 2 Foundation. In this role, Jamele oversaw a unique leadership program that supported high school age students in the New York City area.
Jamele had previously served as Academic Advisor to First Year students at Montclair State University in New Jersey, and before that as Assistant Dean of Students at Kenyon College in Ohio.
Jamele Adams remains very well known in the New York City area in slam poetry circles. Known as Harlym 125, Jamele was a frequent and highly regarded figure in competitions in New York and beyond. Since coming to Brandeis, Jamele has become a part of the Boston area poetry scene and joined a team of poets who have won numerous competitions regionally and nationally.
Jamele has also become well known in the Boston area for his work leading workshops dealing with issues of diversity. Several times in the last couple of years, Jamele has been called to local high schools to help calm student communities after racial incidents have happened.
Known for his work, Jamele is asked to be a panelist or to give presentations on a broad range of topics regarding diversity and pluralism, and also is asked to prepare presentations in response to very specific incidents or conditions. Jamele appears at dozens of college campuses every year. Most importantly, Jamele has become a student and faculty favorite at Brandeis, known and recognized by everyone. He has enhanced the visibility and reputation of our entire division of Student Affairs.


Keynote Title: It's LIT! Race matters in the age of friends, followers, likes, and swipes

Sponsored by the University's Dean of Students Office, Office of Diversity and Inclusion, and hosted by the Mount Union Diversity Council, this conference is an opportunity for college students from across the state to come together and explore diversity on college campuses from a wide variety of perspectives. The Student Diversity Council is comprised of the following groups:
Association of International Students (AIS)
Black Student Union (BSU)
Gender Equity Matters (GEM)
GSA/PRIDE
Hispanic Organization Latino America (HOLA)
Spiritual Life Leadership (SLL)
Study Abroad Club (SAC)