SCHOLAR Day Recap 2022
May 20, 2022
ALLIANCE, Ohio – The University of Mount Union hosted its 15th annual Student Celebration Honoring Our Latest Academic Research (SCHOLAR) Day on Tuesday, April 26 on Mount Union's campus.
SCHOLAR Day is a campus-wide, day-long event filled with presentations showcasing academic excellence and scholarly research conducted by Mount Union students.
Three formal presentation sessions and two poster sessions will be included this year, highlighting 34 formal presentations and 46 posters. Presentations represented several programs, including Mount Union's Physical Therapy and Physician Assistant Studies graduate programs.
This event gives students a chance to share their latest academic research with faculty, staff, students, family, friends and the surrounding communities. Below are some highlights.
PA Studies – Abbie Engler
"The CardioMEMS Device for Remote Heart Failure Monitoring: Who Stands to Benefit Most and Who Is Most At-Risk for Complications?"
Physician Assistant Studies student Abbie Engler M'22 presented her research on the CardioMEMS device, which is a sensor the size of a dime placed on pulmonary arteries, in asking the question, "Which patients benefits most from the device?" Her systematic review of literature looked at four different studies that analyzed several variables in types of patient and conditions. Her research found that the CardioMEMS device is best for patients who fall into the Class III category for heart failure risk who had been recently hospitalized in the prior year.
Math – Brianna Funderburk and Alaina Kelley
"The Impact of Competition on ART Success Rates and Fertility Clinic Practices"
The research done by Brianna Funderburk '22, a mathematics and economics major of ____, and Alaina Kelley '22, a physics major of _____, looked at the question, "Is competition amongst clinics causing problems in success rates in Assisted Reproductive Technology (ART)?" The researchers pulled data from a 2018 CDC report and analyzed dozens of variables that could prove significance in the hypothesis. Using linear regression modeling, the duo found that there is not enough statistical significance to state that competition has any impact on ART success rates.
Biomedical Engineering – Corenna Maynard and Amber Zheng
"MG-63 Cell Viability in Crosslinked Sodium Alginate Hydrogels"
Biomedical engineering majors Corenna Maynard '22, of _____, and Amber Zheng '22, of _____ discussed their yearlong research on if sodium alginate could be a viable scaffold in tissue repair. They analyzed four different amounts of crosslinked sodium alginate hydrogels and their strength when compressed, with 400 mg being the strongest amount. Future research could be done to determine the precise amount of sodium alginate to be deemed a viable solution to act as a gel bandage of sorts to help heal tissues in the body.
PA Studies – Justin Mabry
"Kidney Transplantation: Can We Make It a More Equitable Process?"
Physician Assistant graduate student Justin Mabry presented research regarding the health disparities and inequalities that both black and Hispanic patients face while waiting for a kidney transplant compared to their white counterparts. Mabry looked at several non-medical barriers including geography and or distance to medical facilities, miscommunication between providers and patients and socioeconomic factors specific to certain patients. As part of this research, he concluded that many factors can help to make the process more equitable to all races, including early culturally appropriate and patient centered evaluations. He also concluded the work that the Kidney Allocation System has done over the last 8 years has increased the equitable distribution of donor kidneys across races.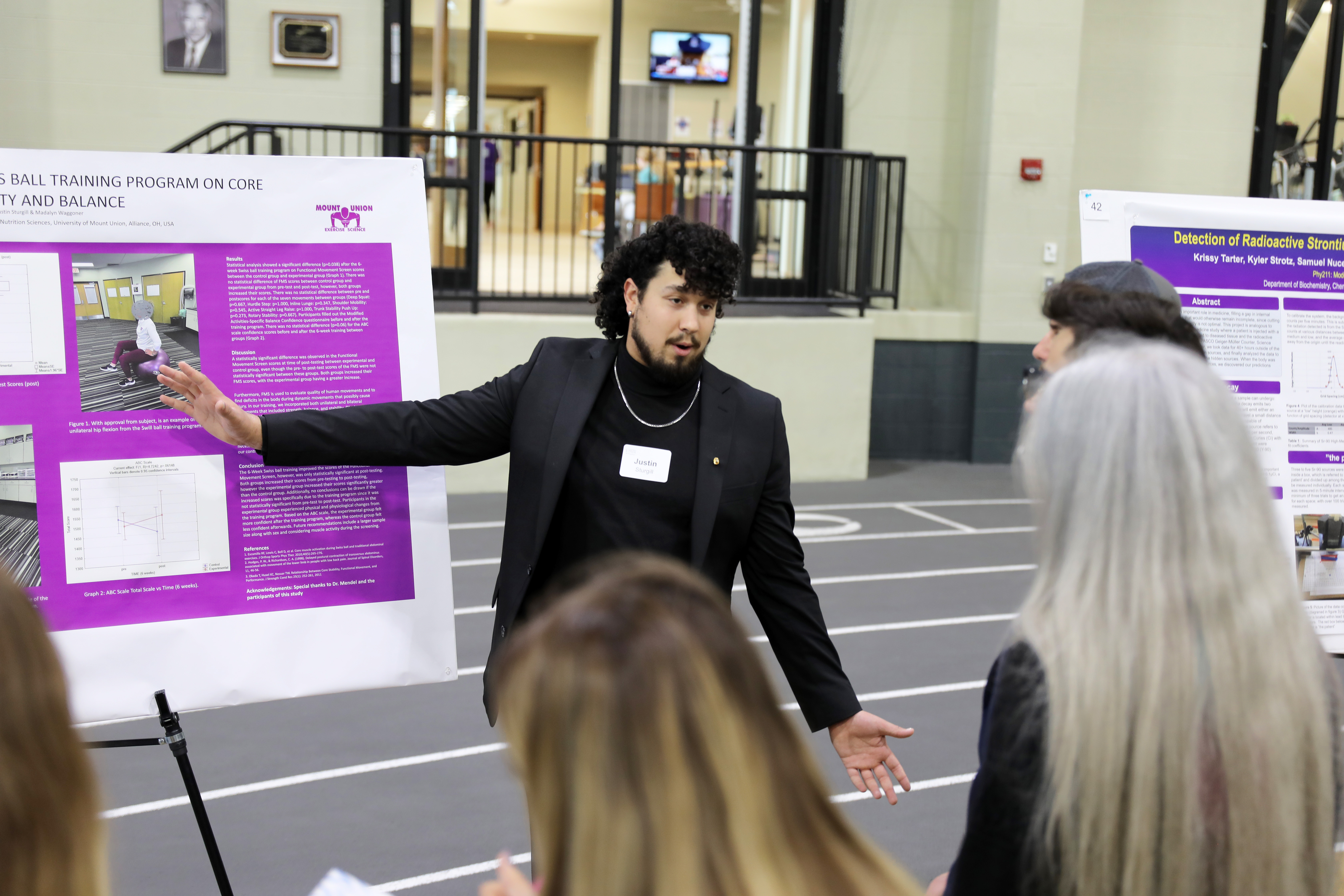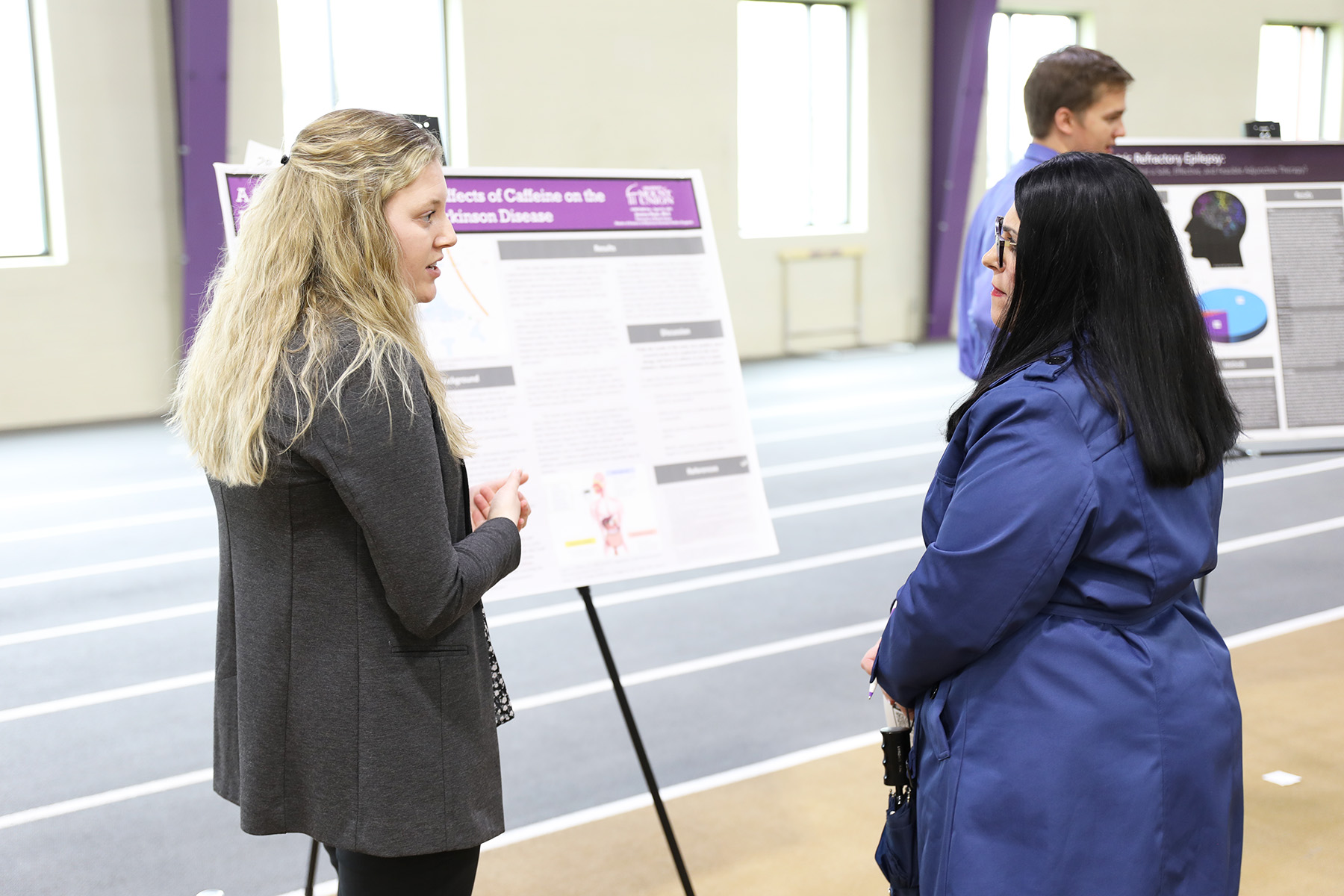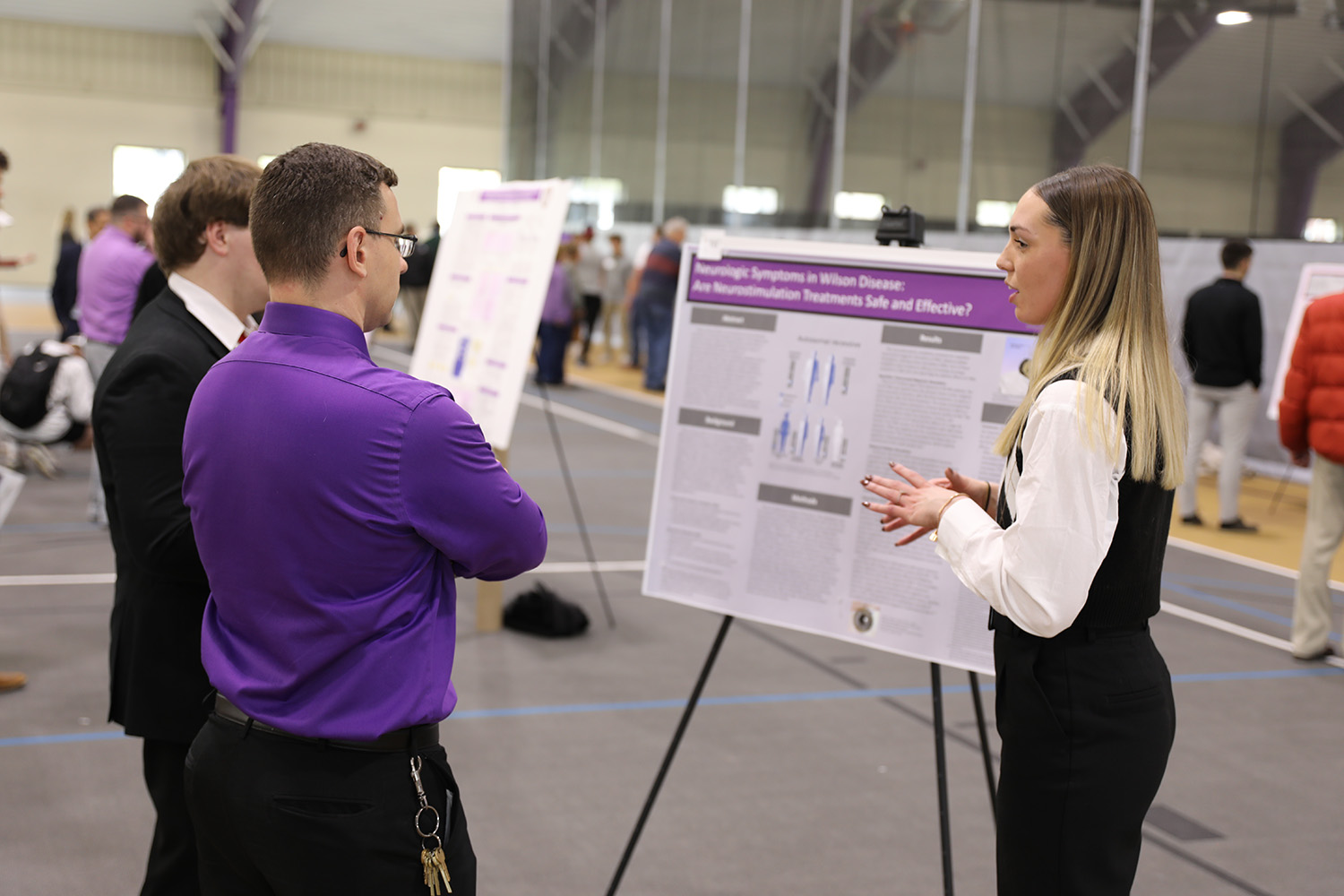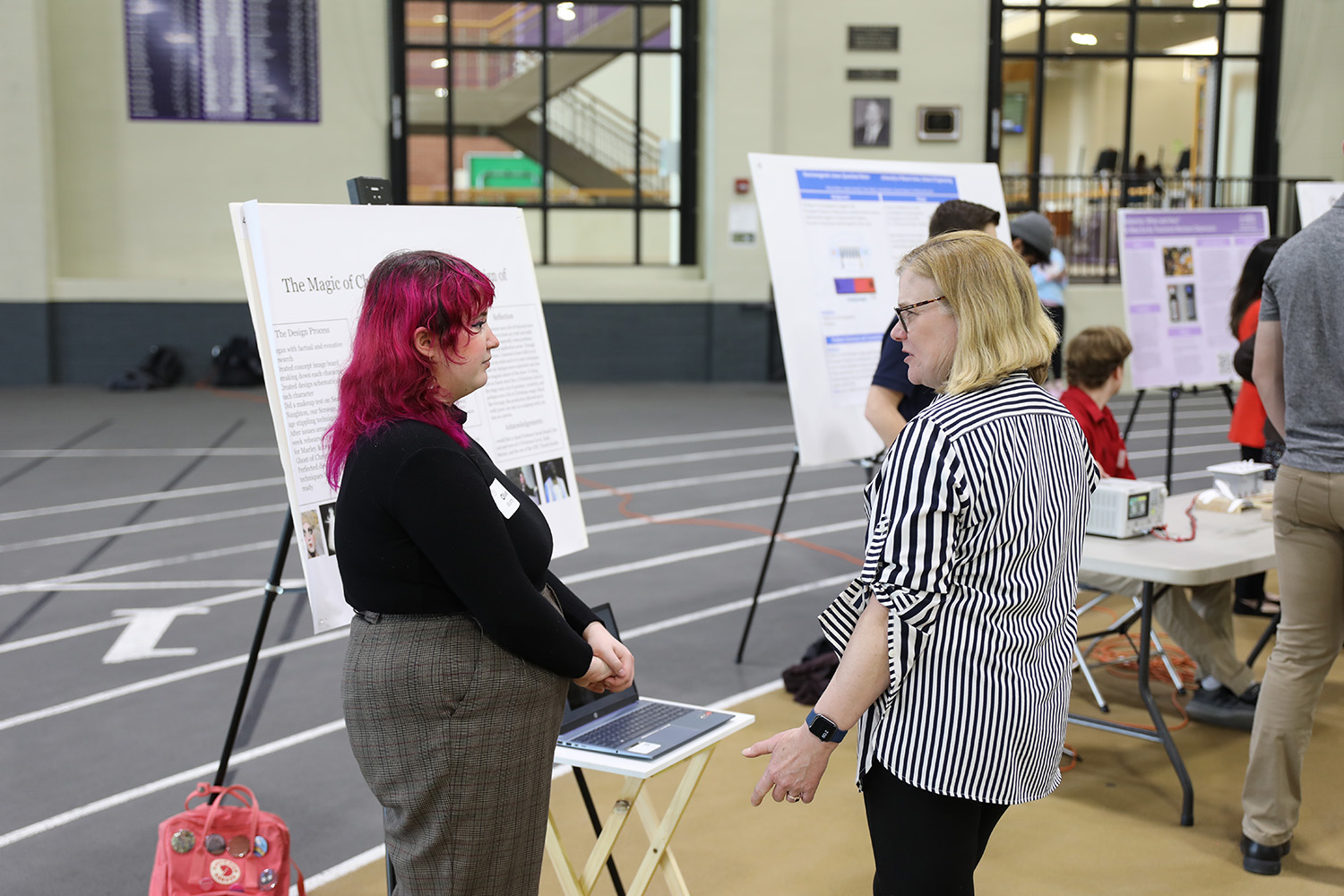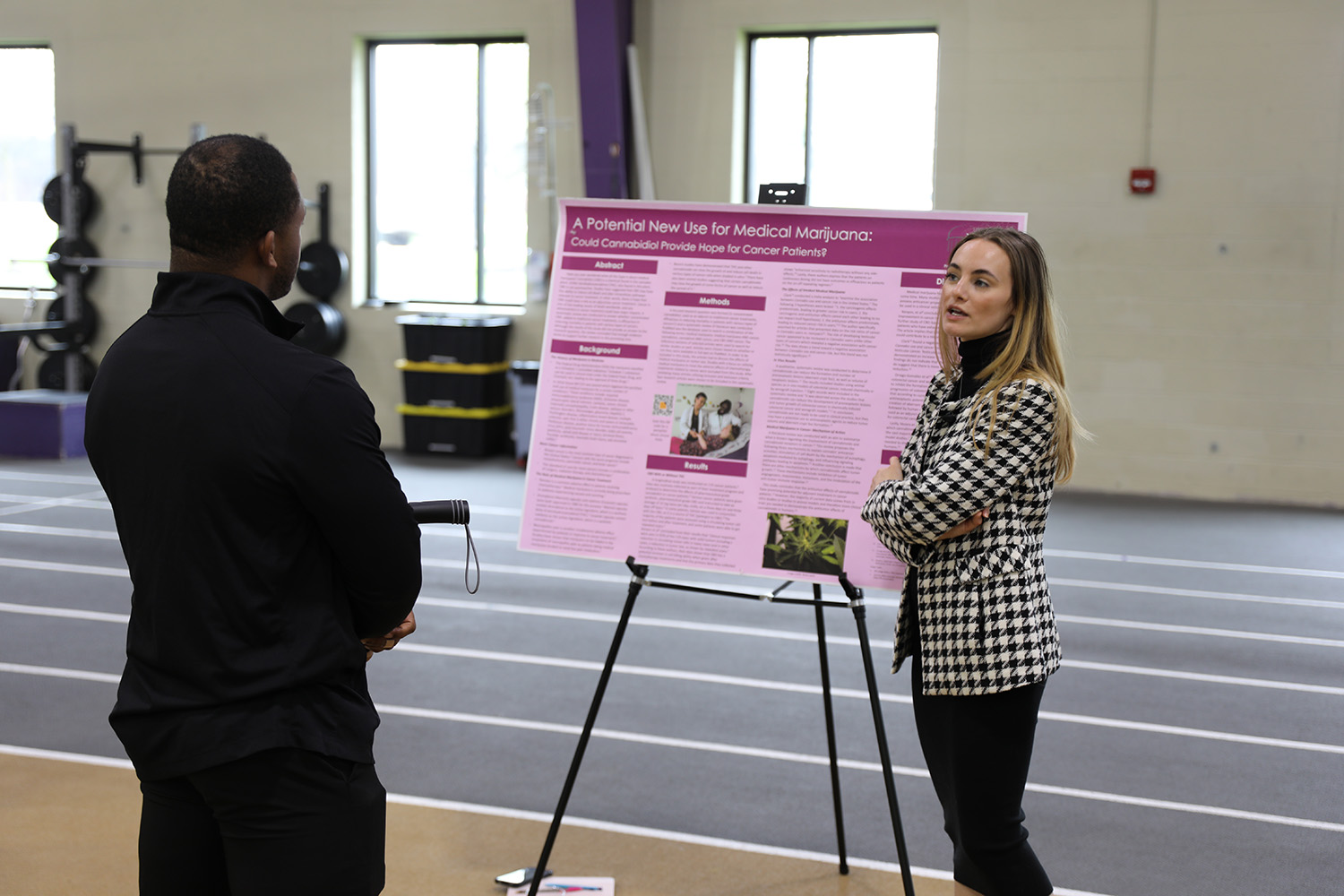 Integrated Media – Dominic Lazzini
"The War of Memes: Why the Taliban is Mimicking the American Alt-Right's Social Media Strategy"
Integrated Media major, Dominic Lazzini gave a formal presentation exploring the Taliban's actions on social media, predominately Twitter, beginning during the Summer of 2021. Lazzini explored how the group, prior to summer 2021 had predominately only used Arabic-exclusive online forums and how that changed when the group started using memes and other posts generally aimed at marginalized groups. He also explored how these posts were very similar to those of the American "alt-right" and in some posts even used images comparing the two. Lazzini went on to theorize that the change was made in an attempt to garner support for members of the Taliban and further promote the idea of a "common enemy" or to continue to fracture politics in America. He concluded that the research is on-going to determine what, if any, goal the Taliban has with these types of posts, although Lazzini did stress though that social media users should combat any type of dissemination of misinformation by continuing their own media literacy and research.
English/Spanish – Lexi Smith
"Finding Greener Meadows"
Senior Lexi Smith, an English and Spanish major, presented a piece of creative non-fiction, entitled "Finding Greener Meadows." The short story explores the emotional experience of comforting a dying man while Smith was working at a long-term care facility at the age of 17. The creative piece, while pulled from life experiences, also included academic research, personal interviews and photos.
Physician Assistant Studies – Jessica Fox
"Improving the Implementation and Tolerability of Scalp Cooling to Prevent Chemotherapy-Induced Hair Loss in Patients with Breast Cancer"
Jessica Fox, a graduate student in the physician assistant studies program, presented, "Improving the Implementation and Tolerability of Scalp Cooling to Prevent Chemotherapy-Induced Hair Loss in Patients with Breast Cancer," to a packed room with standing room only. With hair loss being an early and distressing side effect of chemotherapy, Fox analyzed five studies that explored the effectiveness and side effects of two scalp cooling methods. Scalp cooling has been found to prevent hair loss in breast cancer patients by reducing the temperature of the blood vessels in the scalp and subsequent impact of chemotherapy side effects on the hair follicles. While Fox found that both cold caps and machine-based scalp cooling methods to be extremely effective in preventing hair loss in breast cancer patients when used 100% correctly, some barriers to use and success included cost, patient knowledge, compliance, and quality of life - such as needing to be hooked up to a scalp cooling machine for the duration of the chemotherapy, which could last up to eight hours at a time. Fox came away with the recommendations that in-depth, individualized consultations between healthcare providers and patients, a structured approach, and consistent program standards, all with consideration for quality of life are needed to deliver the intended benefits of scalp cooling.
Psychology and Sociology - Allison Hrovat
Criminal Justice and Psychology - Gretchen Koken
Political Science and Religious Studies - Farrel Murphy
"This Land is My Land, This Land is My Land: The Colonization of America and Ohio's Erased History"
Stemming from the recommendations of Mount Union's Anti-Racism Task Force, Allison Hrovat, psychology and sociology double major, Gretchen Koken, political science and psychology double major, and Farrel Murphy, political science and religious studies double major, undertook the exploration of the indigenous history of the land upon which the University now sits. Their research, entitled "This Land is My Land, This Land is My Land: The Colonization of America and Ohio's Erased History," was supported through the Sit Lux Deans' Interdisciplinary Innovation grants under the guidance of Dr. Niki Johnson and Dr. Kelly Stout over the course of eight weeks in summer 2021. Over the course of their research, Hrovat, Koken, and Murphy scrutinized historical records and interviewed local tribal groups. What they unearthed was a complex and often contradictory history. Throughout the process, the students learned of the often strained relationships between institutions of higher education and indigenous communities, which is a challenge in considering reparations. Despite the complexity of the project, the students drafted a Land Acknowledgement and laid the groundwork to begin forming relationships between the University and local tribal groups and scholars. While acknowledgement of indigenous history was the aim of their limited project, the students hope that their research is only the first step toward social responsibility and historical justice.
SCHOLAR Day award winners:
CASS:
Presentation: Dirk Kaufmann
Poster: Ryan Meister
CNHS:
Presentation: Rachel Hawk and David Massey
Poster: Nicholas Brown and Jalen Foster
CAH:
Presentation: Dominic Lazzini
Poster: Olivia Wolfram
Graduate Programs:
Presentation: Benjamin Pierce
Poster: Katie Jankowski-Schneckenburger