Nursing Students Gain Real-World Experience Through Local Contact Tracing
October 14, 2020
University of Mount Union nursing students have stepped up to do their part in helping public health professionals during the pandemic. For COVID-19 safety reasons it has become more of a challenge for aspiring nurses to complete clinical hours in hospital and community settings. Mount Union nursing students do not have to forfeit the opportunity to get hands-on experience because of the pandemic. Karen Towne, clinical assistant professor, knew that getting students to help with pandemic emergency health responses in local health departments would be the perfect real-world learning opportunity.
These opportunities have found students participating in clinical rotations and additionally volunteering at the Stark Country Health Department by making COVID-19 contact tracing phone calls. Contact tracing is the process of identification of a person who may have come into contact or been exposed to an infected person.
Students make phone calls to people with confirmed COVID-19 cases or their family members to identify and monitor contacts from their home, work, school, and social circles.
These students are learning important health education and therapeutic communication skills with a real experience. They have also assisted in conducting COVID-19 testing. Kelly Engelhart, the director of Nursing and Population Health for the Carroll County General Health District explained how much of a resource the students are.
"Mount Union student nurses have been a wonderful help to our staff as we work to protect the health of our community during the pandemic," Engelhart said.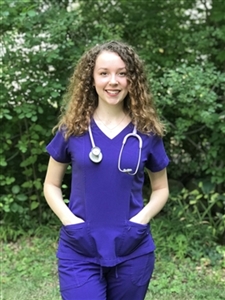 The students are happy to volunteer because not only does it fulfill their clinical hours requirements and help the busy local health departments, but it gives them the opportunity to interact with real patients.
"The pandemic has made life turn upside down." Mount Union senior nursing student, Natalie Dubaj '21 said, "This is a time full of unknowns but also a great way to learn in the field of nursing. As a student, I try to take every opportunity to learn so I can be better for my patients in the future."
The students have learned valuable information from the experience that they will apply in their future nursing roles. Lauren Koler '21, another Mount Union senior nursing student, volunteering to contact trace enhanced her education.
"My education through Mount's nursing program really made me able to communicate with the patients I talked to in the best way possible." Koler said, "Not only did I learn and experience how a health department and a community is impacted by a pandemic, but I was able to further hone my communication skills and patient interaction over the phone."
Volunteering with the Stark County Health Department has benefited the community and students. Nursing student Krysten Castenir also reflected positively about the volunteer experience and the nursing program at Mount Union.
"What I love most about the nursing program is how close knit it is and how close you get with your classmates and the nursing faculty," Castenir said.
Mount Union nursing students continue to volunteer with contact tracing efforts to help contain COVID-19. Their help does not go unnoticed and impacts the community's goal to end COVID-19.
"I speak on behalf of our health department when I say that the students lived up to responsible citizenship during this pandemic." Amy Uhler of the Stark County Health Department said, "Their involvement in our contact tracing efforts helped to find the epidemiological link between cases and contacts."