Mount Union Nursing Students Receive Advanced Clinical Experience
April 05, 2021
By: Peyton Zamarelli '22
The University of Mount Union's baccalaureate and second-degree accelerated programs in nursing are accredited by the Commission on Collegiate Nursing Education and approved by the Ohio Board of Nursing (OBN). As nursing students, they have access to state-of-the-art nursing facilities and will be joining one of the fastest growing occupations in the country Mount Union nursing students are able to experience this advanced education while also putting their skillset to practice in various clinical opportunities.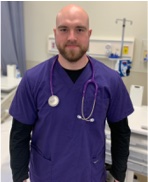 Tavis Stika '20, of Creston, OH, is an accelerated nursing student. He graduated from Mount Union in the spring of 2020 with a Bachelor of Science degree in exercise science and a minor in biology. During that time, he was a study table tutor, intramural referee, and member of the Purple Raiders Football Team.
Currently, Stika is procuring field experience at Akron General Cardiac/ Medical Unit in Akron, OH as a student nurse. In this experience, he is responsible for overall patient care regarding assisting the patient with daily activities and passing medications.
"Throughout my clinical experiences I have had the opportunity to learn various aspects of each practice that I have been exposed to," Stika said. "Overall, I learned the importance of being able to communicate and care for patients effectively."
In the accelerated nursing program, Stika has grown notably. His previous exercise science degree has created a great foundation for success in the new program.
"My exercise science degree has given me another perspective when it comes to patient education and care," Stika said. "Being able to combine both of these programs has really shown me the importance of a healthy life. I am now able to continue sharing this knowledge with my patients to increase their care as well as put my coursework to practice."
After completion of this accelerated program, Stika wishes to work as a pediatric registered nurse.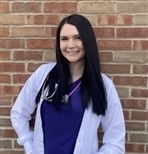 Jacqueline Srp '22, of North Royalton, OH is a junior nursing major. Srp is greatly involved in the nursing program as the former treasurer and now president of the Student Nursing Association. Additionally, she is a member of the Alpha Lambda Delta honors fraternity.
Srp continues to find success within her major. Most notably, she is currently obtaining clinical experience at Aultman Hospital in Canton and Akron General Medical Center in Akron.
In this role, Srp is responsible for all aspects of patient care as directed by the nursing staff. This includes taking a patient's vital signs, performing head to toe assessments, passing medications and performing various procedures such as blood draws, dressing changes, IV insertions, catheter insertions, and tracheostomy care.
"While doing my clinical experience I have learned that I am capable of being a qualified and dedicated nurse," Srp said. " I have the ability to access patient's charts so that I have a better understanding of what type of care the patient needs."
The nursing program at Mount Union gives students the attentive education they need to thrive as future medical professionals.
"My major has set me up for success through classroom learning in addition to clinical rotations," Srp said. "Throughout this experience I have developed necessary skills to provide the best patient care I possibly can."
After graduation, Srp plans to work at a hospital as a critical care nurse in an ICU. After gaining the necessary critical care experience, she would like to become a flight nurse.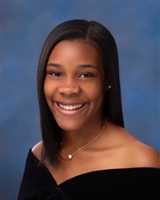 CJ McGhee '23 is a sophomore nursing major who calls Pittsburgh, PA her hometown. McGhee is very involved on campus as a resident assistant in McMaster Hall, member of Alpha Phi Omega (APO), Student Nursing Association, Student Senate, American Sign Language Club and Student Alumni Association.
McGhee receives an advanced education as a nursing major. This includes inhabiting field experience just in her second year at Mount Union. She is able to shadow medical professionals and perfect her skills at Salem Regional Medical Center in Salem.
In this role, McGhee is responsible for maintaining and restoring the health of patients by practicing bedside nursing, passing all medications, documenting, collaborating with healthcare professionals and operating medical equipment, all while following the hospitals safety COVID-19 protocols.
"Each day at clinical is great because every day is a new experience that is vital for my growth as a future nurse," McGhee said. "I have learned everything from diagnostic testing to types of monitors my patients are on."
McGhee believes that hands-on experience is crucial to to withstand the rigors of becoming a nurse.
"My major has given me the medical experience I need while also showing me that displaying the art of nursing through therapeutic communication and continuous comfort for the patient is essential."
After graduation, McGhee plans to specialize in pediatrics so she can care for children.

Madison Gasparik '22, of Alliance, is a junior nursing major. She is a member of Alpha Chi Omega (AXO), Student Nursing Association, the women's golf team, and is an Investment Alliance Student. Off campus, Gasparik is a member of St. Joseph's Catholic Church and an Alliance community volunteer.
Gasparik is able to receive an exemplary education not just in the classroom, but also off campus completing her clinical work. Currently, Gasparik is advancing her nursing skills at Aultman Alliance just down the street from campus.
As a student nurse, she is responsible for giving quality care to all patients under any circumstance. This includes ambulating them, helping the patient acclimate their hospital room, joining in on procedures, wound or surgical sit care, and creating a comforting environment.
"I have learned so much in my nursing journey thus far. Specifically, you never know what someone is going through," Gasparik said. "One saying that always comes to mind is, 'just because someone carries it well, does not mean it isn't heavy.' I try to make every one of my patients smile throughout my shift. Perseverance is important, and I will never know everything, but what I do know is a smile could change a patient's day."
Without overcoming the rigorous and detailed coursework of the nursing major, Gasparik would not be where she is today.
"My major has given me so much. Throughout my experience at Mount Union, I have been supplied with a multitude of clinicals, jobs and internships," Gasparik said. "I have had the opportunity to accomplish clinicals at five different hospitals thus far in my college career. As time progresses, I continue to become more excited for the nurse I am becoming and will continue to become."
After graduation, Gasparik plans to work as a nurse for the Cleveland Clinic and later continue her education to become a nurse practitioner.