Students, Employers Share Internship Advice at Mount Union Symposium
February 10, 2020
ALLIANCE, Ohio — Internships continue to be highly sought-after experiences for college students across the country so that they can begin their dream careers upon graduating. With that in mind, the University of Mount Union recently held an Internship Symposium on Thursday, February 6 for students and local business professionals.
Nearly 60 attendees filled the Newbold Room of Mount Union's Hoover-Price Campus Center to hear two panels share stories and advice about internship opportunities.
The first panel consisted of a group of five Mount Union students who shared the knowledge and real-world experiences they received through internships in different industries, and how that will assist them in their post-graduate endeavors.
The students were: Jake VanDerkar '20, a marketing major of Alliance, Ohio, Taylor Mitchell '20, a marketing major of Avon, Ohio, Maleah Matey '20, a human resource management and marketing double major of Massillon, Ohio, Brian Belz '20, an accounting and finance double major of North Royalton, Ohio and Erin Bain '20, an accounting major of Beaver Falls, Pennsylvania.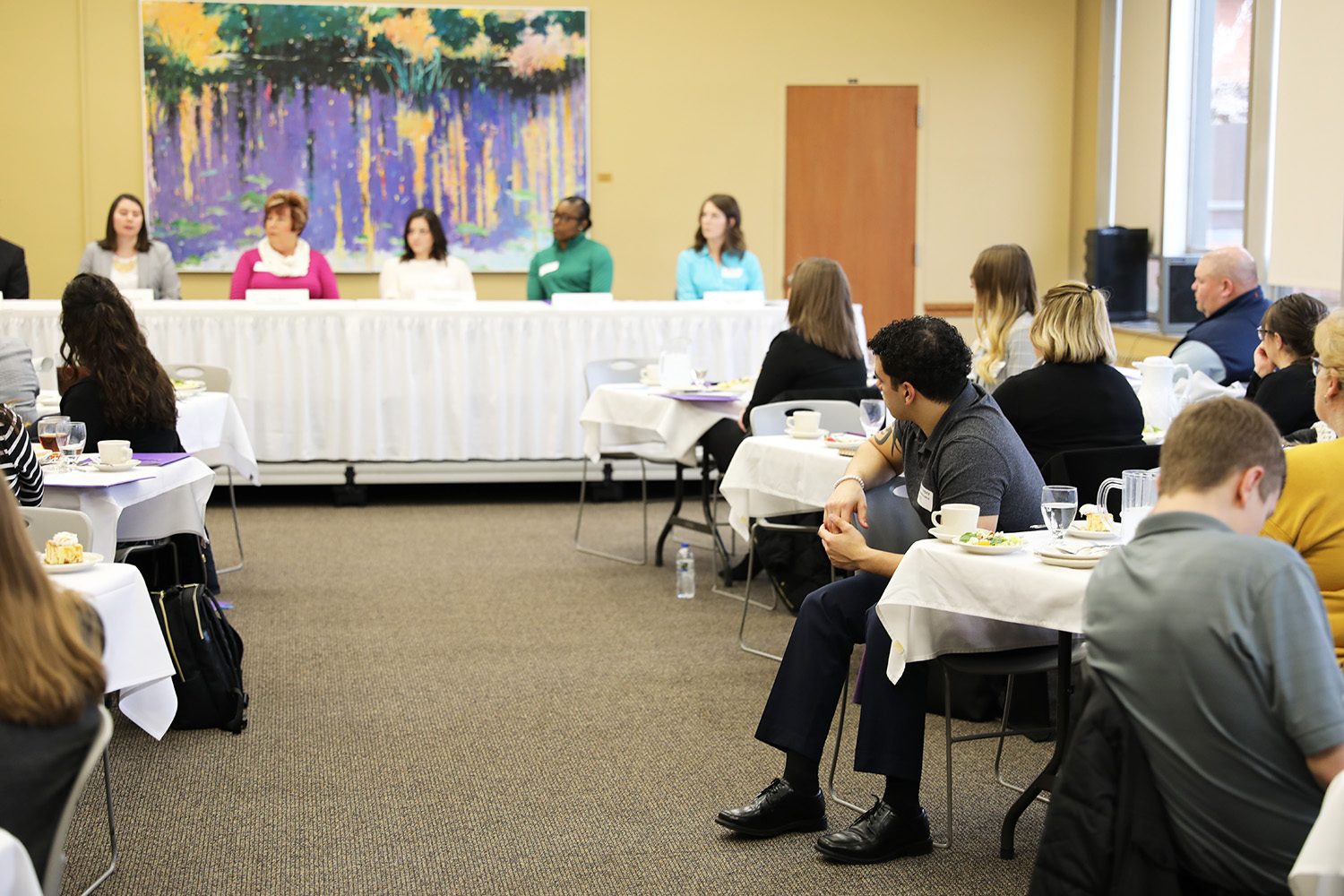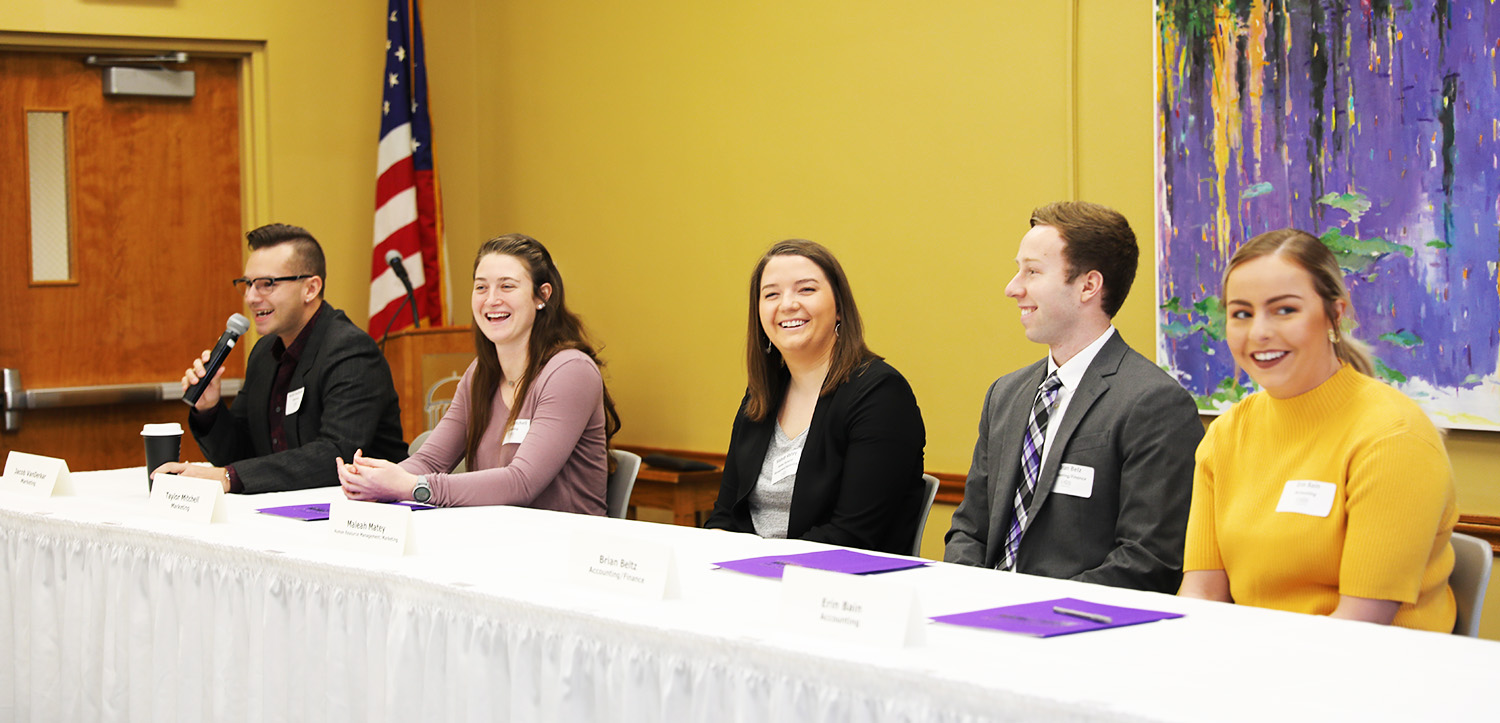 Following lunch, the second panel featured business professionals providing advice to the employers and students in the room about best practices for administering, obtaining and succeeding in internship programs.
The panel was comprised of six industry specialists:
Tony Prinzo, assistant vice president of human resources at National Interstate Insurance Company, has been working with talent at his company for seven years. He is focused on partnerships with the Ohio Insurance Institute, and with emerging Insurance and Risk Management degree programs.
Stephanie Pogacnik, senior accountant at Ciuni and Panichi, participates in the performance of audits and reviews, specializing in not-for-profit clients. She is a member of several professional organizations, including the American Institute of Certified Public Accountants and the Ohio Society of Certified Public Accountants, where she serves on the Young CPA Leadership Committee.
Sue Neil, human resource director of Robertson Heating Supply, is an Alliance native who has been with her employer for 39 years. She oversees recruitment, employee training, labor laws, worker's compensation, all employee benefits; as well as the company's property and casualty insurance.
Abby Heddleston, talent acquisition specialist at H-P Products, is a 2017 graduate of Mount Union and has already developed experience in risk management and worked as a safety intern with H-P prior to her current role.
Autumn Mickens, talent acquisition specialist at Enterprise, began in the company's management training program and is now responsible for full time and part time hiring for half of the Northern Ohio operating group.
Meg Stotler, human resources manager at MAC Trailer, is a 2014 graduate of Mount Union and had the opportunity to intern at MAC Trailer during her time as an undergraduate, which led to a full-time position with the company.
The symposium was co-sponsored by the Mount Union student chapter of the Society for Human Resource Management and Mount Union's Department of Business, College of Applied and Social Sciences and its Career Development Office.
Learn more about how Mount Union assists in student internship opportunities by visiting mountunion.edu/career-development.
For internships for accounting students contact Ruth Pogacnik, associate professor of accounting, at pogacnrc@mountunion.edu. For other business student internships, contact Mike Kachilla, associate professor of management and internship coordinator, at kachilma@mountunion.edu.