The Clay Family: A Legacy Tradition Built on Love
February 12, 2021
By: Peyton Zamarelli '22
The University of Mount Union marks the beginning of many love stories. This is especially true for the Clay family, who inhabits a great family tradition of legacy students.
Roger Clay '61 is a very proud alumnus, grandfather, and great-grandfather. He began a beautiful tradition in his family tree: a collegiate experience at Mount Union.
Roger, of Hartville, OH, began his journey at Mount Union as a first-generation college student and member of the basketball team in the year 1957. He believes that he would have never found himself as a young student at the University if it were not for his Hartville High School teachers, superintendent, parents, and significant other Patricia Brown, who was his high school sweetheart.
After Roger's first year of college, he and his now wife married. Thereafter, Roger continued on his education as a husband, father, student-chemist, and triple minor in physics, history, and religion. Not only this, but Roger also worked full-time at his in-law's laundry business.
"I like to say my wife and I both went to Mount Union and we graduated together. Patty helped me through it all," Roger said. "Maybe one day I'll find my diploma and engrave her name on it too. Because of the support of Patty and our parents, I was able to really thrive at the University. I am very grateful for that."
Despite having a very busy life outside of school, Roger believes it was the best decision he had ever made. He joined the Alpha Tau Omega fraternity his senior year and spent his free time playing intramural sports with his brothers, as well as volunteering his time at a local orphanage where he sang Christmas carols to the children.
"It was such a rewarding experience to warm the hearts of the children through song alongside my fraternity brothers." Roger said.
Roger believes his Mount Union experience was irreplaceable because of the rounded education he obtained as well as the the opportunity to interact and collaborate with many different people. He enjoyed learning and it still carries a lot of value in his life to this day.
"You have every opportunity in the world at Mount Union to get a great education," Roger states. "Then you can go out in the world and show what you know, but never forget to have fun while you are doing it. There are a lot of things that may get in the way, but if you keep pushing through and enjoy these years, you will cherish these memories for the rest of your life."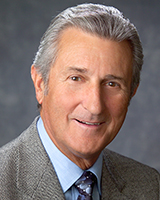 Currently, Roger is the business owner of Rentwear Inc., in North Canton, OH which is an industrial laundry and linen supply company that he began 48 years ago. Alongside many other proud alumni, Roger has been serving on the University's Board of Trustees for the past 24 years. Mount Union holds a great place in his heart, and he is thankful for all the time he spent as a student in Wilson Hall, which is now where Kolenbrander-Harter Information Center (KHIC) is located.
Therefore, Roger was ecstatic when his grandson, Corey Clay '05, decided to enroll at the University as well.
"I loved going to watch my grandson sing at the choir concerts and see him succeed as a student," Roger said. "I hope that someday I am able to see my great-grandchildren there too."
Corey Clay of Uniontown, OH was a computer information systems major and business administration minor. When he wasn't studying, you could find Corey in Cope Hall singing in the Fire Engine and concert choirs. He was also a member of the Alpha Lambda Delta honors fraternity. Corey and his now wife, Krista (McClarren '04) Clay began dating before Corey began his time as a Mount Union student.
Krista of Alliance, OH began her collegiate experience at The University of Akron. After dating Corey for several years, she believed that transferring to Mount Union would give them the opportunity to see each other more. Additionally, Krista's mother, Linda McClarren '69 also studied music education at Mount Union, so she was very proud to enroll as a legacy student.
Krista was a music education major involved in concert choir, marching band, Mu Phi Epsilon, Ohio Collegiate Music Education Association, Alpha Lambda Delta and was a student worker in the Office of Admissions.
Their ability to have a loving relationship while being on campus together is one of their favorite memories.
"Our favorite memory we share was spent during our daily lunch date in the cafeteria before choir rehearsal," Krista said. "We literally lived for the homemade doughnut days and often made our own hibachi at the self-service station!"
Corey and Krista considered the Department of Music to be their campus family, and they spent much of their time hanging out with friends in Cope Hall. When they were not here, their favorite study spot was the top floor of KHIC, which is where Wilson Hall stood several years prior.
During the holiday season of 2003, Corey shared with his fellow choristers that he planned to propose to Krista that Christmas Eve. They soon married after graduation on June 18, 2005.
Currently, Corey is a software consultant and national support manager with Nextec Group Inc. in Jackson Township, OH and also serves on the Mount Union Alumni Board. Krista teaches middle and high school music at West Branch Local School District in Beloit, OH.
They enjoy raising their three children, Gavin, Ashton, and Sutton Clay, spending time with family and being active members at their local church, St. Stephen Martyr Lutheran Church in Canton, OH.
"We spend a lot of time with our parents," Corey said. "Before COVID-19, we would be sure to make it to every Mount Union football game and spend time with Grandpa and Grandma Clay."
Corey and Krista cherish their time at Mount Union and often reminisce on the memories they made while in college.
"Enjoy every second of your college experience. There is a lot of adult life to be lived," Krista said. "Enjoy the now, participate in campus life, nurture your friendships and do not rush your time as a Raider."
Corey and Krista, along with the support of Grandma and Grandpa Clay, hope that someday their grandchildren decide to carry on the family tradition as Mount Union legacies. Maybe they will even find the love of their life on campus too.